IPO3, LGA-WUSV Qual.- GSDCA-WDA NAT. 2015, WUSV UNIVERSAL QUALIFIER, Kkl-1 PDC, PSA1, 2018 PSA NATIONALS COMPETITOR
HD fast normal, ED normal OFA DM Clear
DOB: 06/2010
Many people here and abroad have contributed to produce, train, and maintain this incredible dog. I am so grateful to them! Their dedication shows through in him every single day.
Ayk has transitioned from IPO to PSA with me beautifully. He engages a full suit with all the power and speed of a world class competitor. He isn't the average dog on the field. He has successfully taken me, a complete beginner to PSA to the winners podium multiple times in 2018 and all the way to Nationals in our first competitive year together. We achieved 1st place PSA1 twice, 2nd place once, and highest overall protection score twice. WOW!
He continues to teach me so much and is a blast to work with at home and on the field. We will be striving for Nationals again in 2019 and PSA2.

Ayk is cool, motivated, and social. He is an admirably stable and clear headed dog. He is not a naturally aggressive dog and is great with guests, pets, livestock, and children. Trustworthy in any situation or environment and a real head turner. I love traveling with him and he loves to do ALL THE THINGS with the greatest enthusiasm. An all around wonderful dog. He gains fans and admirers everywhere he goes while also scaring them all just a little with his intimidating appearance.
Ayk passes his large structure, big head, high drive, and social nature to his offspring.
He is available for stud service in North Carolina to select females from other breeding programs. Contact me for more information.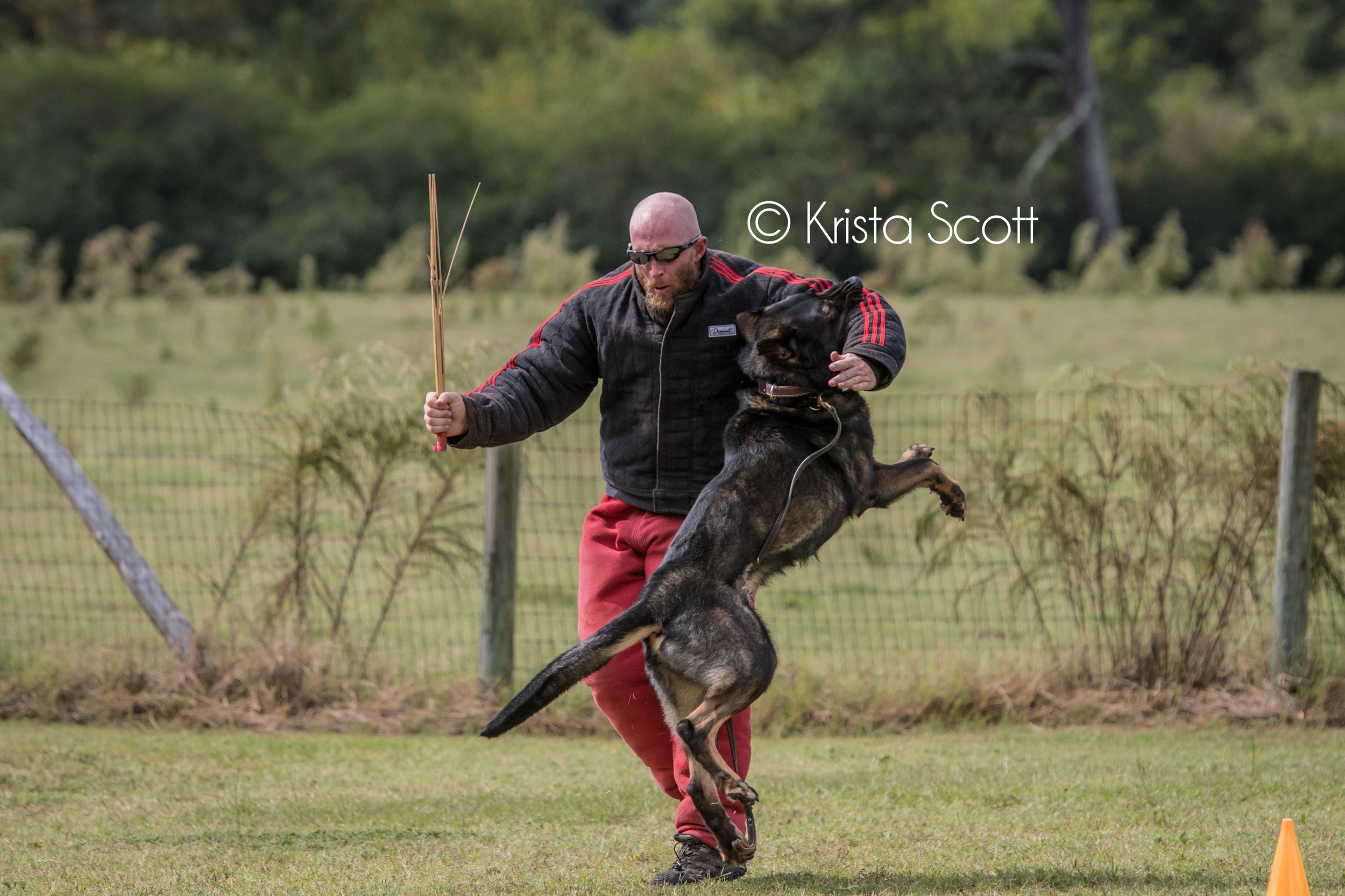 Jonas von Schwarz Lilie
Personal Protection Dog & Estate Guardian
OFA Fair DM Clear
DOB: 08/2009
Jonas is a powerful family companion and guardian. Bred to the original breed standard he possesses solid structure, great pigmentation, and large head complete with imposing expression. He is out of German SCHH3 titled bloodlines developed for their drive, trainability, instinct, courage, and size.
Jonas is 70lbs of pure muscle making him ideal for work, travel, and life indoors. Ever watchful and alert, but relaxed and very affectionate in home. Jonas possesses tremendous working abilities and is a reliable and fearless guardian of farm and family. He is a focused and dedicated tracker and herder. He confidently solves difficulties in the field on his own and is a trusted livestock guardian.
Jonas is a very civil dog and the only dog I trust 100% with my safety. In the working dog world, civil means the dog has natural, serious aggression. Jonas needs no enticement or agitation to engage a threat and has live bites. Jonas is highly reliable with obedience commands and posses a strong motivation to please. He is wicked smart and has always been easy to guide, teach, and train. He is an extremely versatile dog. He herds, guards, tracks, and never lets us down. Jonas has been a treasured member of our for 9 years.

A true power house in protection with tremendous fighting drive under conflict. Jonas possesses genuine concern for our entire family including our cats and livestock. Jonas is the highest level of personal protection dog and a legend among friends, family, and followers. He has been trained in off leash building search, tracking, herding, advanced obedience, and agility. He is the best canine friend a girl could ask for and my trusted personal protection dog.