K9 KARMA:
Mobility Assistance Dog, Psychiatric Service Dog, ADA Compliant Deterrent Dog, Bridle Trail Dog, Urban (Dry Land) Mushing Dog.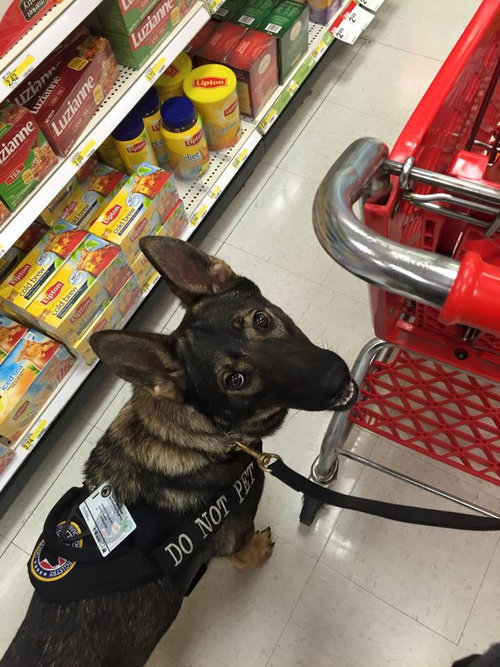 MOBILITY ASSISTANCE & PTSD DOG - Karma has task training suitable for a handler with many types of mental disabilities and someone needing light mobility assistance. She can be cued to provide tactile stimulation, can quickly locate exits for her handler and can provide deep tissue pressure where indicated. Karma is very in tune with her handler and responds to subtle cues like changes in breathing, sighs, and if her handler is staring off into space (dissociation). She is a shoulder to cry on and a constant companion that loves to do anything and everything for and in partnership with her handler. Karma can provide support as a counter balance and can also provide a steady brace to someone rising from the floor. Due to her size (60lbs) she is best suited for someone who needs occasional physical assistance. Karma has been conditioned to wait for her handler, step by step going up and down stairs, rocky, uneven terrain, and even curbs. Karma has been trained and her skills tested at doctor's offices, in crowds, concerts, stadium baseball games, seminars, meetings, in restaurants and movie theaters, at horse shows, aquariums, zoos, weddings, fairs, parades, elevators, horse trails, hotels, on commercial flights, horse drawn carriages, rickshaws, trains, and public transportation. If you can think of it she has done it.

DETERRENT DOG TRAINING - Karma can be cued to bark intensively at anyone, anytime. She turns on and off flawlessly in any environment, under any distraction. She has not had bitework development and so is compliant with Federal ADA laws regarding protection training and service dogs. She is naturally a very social and stable dog but will scare someone half to death if asked to.

BRIDLE TRAIL DOG, URBAN (DRY LAND) MUSHING, & MORE - Karma is a wonderful dog to work with in training and has accomplished many things in our time together. She is perfectly neutral to horses and always very well behaved on horse trails. She can accompany a group or a solo rider and no matter what comes up the trail will stick with her handler and listens to any direction. Karma has been trained and conditioned to stay several paces ahead of horse and rider while on the trail. She also constantly looks back to check in with her handler and keep and see on what may be coming from behind. Wether its extended camping or a short haul she always makes any ride even more enjoyable while keeping an eye on you and the trail at any pace.
Karma is so much fun to mush with. SO MUCH FUN! We bikejor (she pulls a bicycle and rider) together and Karma can easily do a 7 mile track with hills no problem. She can go very fast when asked but mostly maintains a steady traveling space. She has not been raced but should do very well as a competitor. She has never strayed from the track, stopped without being asked to, and is not distracted. She loves to GO! My husband is an avid mountain biker. I am not. To keep up with him on the trails he likes to use Karma has been a huge helper for me. I may get tired, but Karma never is.
Karma's high level of obedience training has her well prepared for AKC Obedience and AKC Rally Trials. She can easily pass the first two levels (Beginner & Novice) with her new handler. I hope this is something her purchaser will pursue with her. It would be a great way to make new friends and strengthen your bond.
Karma is a wonderfully happy, low key, and trustworthy girl. She loves her jobs and is happy to work at anytime in any environment. I would love to share her with someone who wants to take advantage of all she has to offer. Ideally, I want her to be someone's partner and best friend. I hope she inspires her handler to get out there and gain more independence and confidence than they had before. Although Karma would be well suited for almost any handler, her age (4 years old), experience, and skill set suggest she be especially suited for someone who lacks experience as a service dog handler, may be acquiring their first working dog, or a young adult. She will take care of her handler and knows her job very well. She will set the bar very high for any future working dog and other service dog teams in your community.
 
SOLD
Includes health certificate, in-person delivery + handling course, and essential gear and equipment.
If you would like Karma to be your new partner and companion please give me a call at 434-326-2748.